Beijing: China has issued guidance to all provinces to build a basic elderly care system by 2025, state-run Xinhua news agency said, in the latest step to prevent a demographic crisis.
Who takes care of the elderly in China, where pensions are tiny, is one of the major headaches policymakers face as they deal with the country's first demographic downturn since Mao Zedong's Cultural Revolution.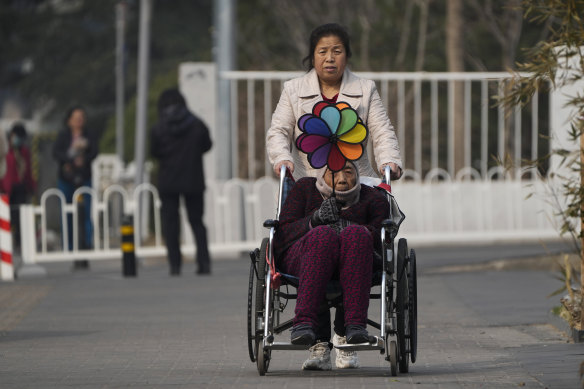 China's National Health Commission projects the number of people 60 and older will grow to 400 million by 2035, from 280 million now. There will most likely be a need for about 40 million beds in community facilities and nursing homes, up from 8 million now, analysts say.
The ruling Communist Party has mobilised resources to ensure that more vulnerable age groups are cared for as society ages. In 2020, citizens 65 and older accounted for 13.5 per cent of the population, compared with 8.87 per cent registered in 2010.
"Promoting the construction of the basic elderly care service system is an important task for implementing the national strategy of actively responding to population ageing and achieving equalisation of basic public services," Xinhua said.
Loading
It said the guidelines require all provinces to implement a list of basic elderly care services, based on factors such as economic and social development level and financial situation.
Services included material assistance, nursing and care-giving, while all provinces must provide visiting and caring services for elderly living alone and for families with financial difficulties.
China's 1980-2015 one-child policy has meant that smaller families are increasingly expected to support an ageing population, while a rising number of elderly citizens are living alone.
Related Posts