JOHNSTOWN, Pa. – Tired of looking at the vacant lot across Wood Street from their home in Johnstown's Hornerstown section, Theresa Elchin-Gunby and her husband, Tonny Gunby, received permission in 2018 to do some planting on the property.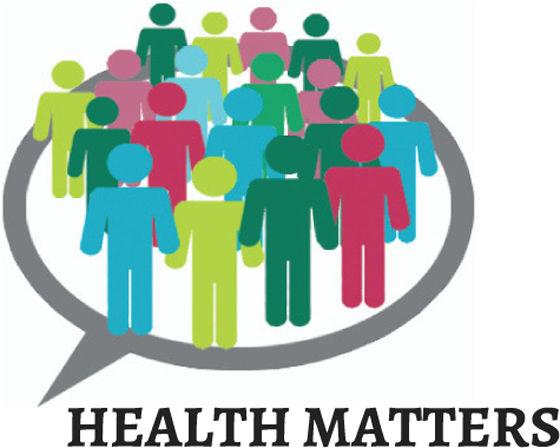 After some initial success, the couple bought the lot in September 2019 and began to make improvements.
Today, the Hornerstown Community Garden is one of nine community gardens scattered throughout the city that provide fresh produce to neighborhood families at no charge.
The 11-year-old community garden project is one of seven existing programs and new initiatives to get support through a joint effort to reduce hunger that is being developed by about a dozen local organizations.
They include the 1889 Jefferson Center for Population Health, the 1889 Foundation, the Greater Pittsburgh Community Food Bank, Sandyvale Memorial Gardens and Conservancy, Flood City Youth Fitness Academy, the Cambria County Backpack Project, Cambria County Library, Trinity Farms Center for Healing, Benshoff Farms, the St. Vincent de Paul Food Bank and Vision Together 2025.
"It's an ambitious plan to reduce hunger by 2% in the Greater Johnstown region," United Way of the Laurel Highlands President and CEO Karen Struble Myers said.
Food security is considered to be a social determinant of health because it affects people's overall health. The social determinants of health are grouped as one of seven focal areas for action in the latest Community Health Needs Assessment, published in March by Conemaugh Health System and the 1889 Jefferson Center.
1889 Jefferson Center President and CEO Jeannine McMillan said the goals of the food security project include:
• Developing a resource inventory of food-related resources and educational materials available in this area as sources for those in need.
• Developing nutrition and education programs in cooperation with other local organizations.
• Addressing food security with programs for specific populations, while facilitating enrollment in government feeding programs.
• Looking at food as an economic driver by developing a food incubator and training program downtown, along with working with local farmers.
• Expanding community gardens and food pantries.
• Promoting and expanding farmers markets, including the Downtown Johnstown Farmers Market and the Free Market in Moxham.
• Exploring more grants and best practice opportunities.
The Community Gardens project was first launched in 2012 by Alternative Community Resource Program with grant funding from the Community Foundation for the Alleghenies and other sources.
While some of the original gardens continued to thrive, several others became neglected due to a lack of volunteers and sponsors.
'What they put in comes back to them'
In 2016, the newly formed Vision Together 2025 relaunched the effort with its first capture team, team member Sue Konvolinka said. Committee members rounded up nonprofits, community groups, churches and volunteers to sponsor each garden and provided training in basic gardening requirements.
"It's not, 'Build it and they will come.' All of these community gardens are successful because people in the community want them," she said. "They have learned through the years what they put in comes back to them."
The Gunbys' Hornerstown garden features nearly a dozen raised vegetable beds, a border of perennial flowers, a tilled vegetable bed, a small gazebo and a raised viewing platform built over a large stump. There's even a "greenhouse" consisting of a metal shelving unit with a custom-fitted clear vinyl cover.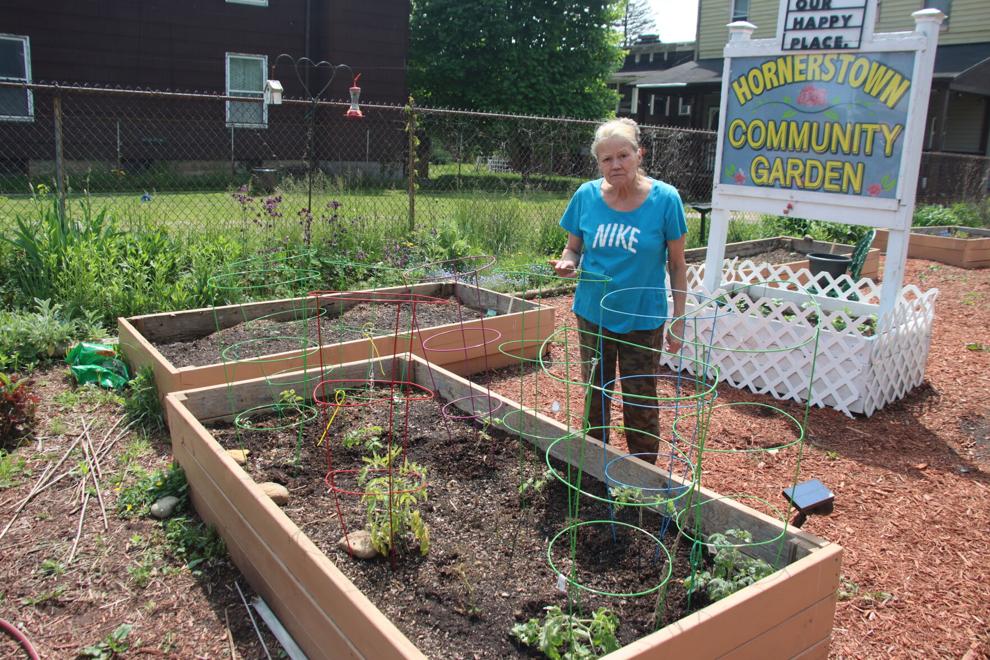 Elchin-Gunby and her husband have done most of the work themselves and buy most of their own plants. Health issues have limited Tonny Gunby's participation since last year.
The garden has become popular within the Hornerstown community, Elchin-Gunby said.
"They love it," she said. "I get so much I have to turn people away. I say, 'Can you come back in three days? I don't have my cucumbers ready.'
"If nobody comes, I have a basket sitting over at that table over there I put all the veggies in. People who walk by can come in and get what they want."
This year, she has already planted collard greens, zucchini, peppers, tomatoes, beans, cucumbers and cabbage.
The garden is clearly a labor of love for Elchin-Gunby, 66, but her enthusiasm has captured the attention of some important neighbors. This spring, a group of staff and students from nearby Greater Johnstown Middle School have helped with weeding and planting in selected areas.
"The teachers told the kids not to touch the raised beds," Elchin-Gunby said.
Owners of Bantly Hardware, 701 Von Lunen Road, heard that the garden did not have a convenient water source, so the business contacted the Greater Johnstown Water Authority and installed a new tap with water provided by the authority.
"I used to get rainwater over at my house and fill jugs up and drag them all over here," Elchin-Gunby said.
'I'm not going in to change anything'
As part of the larger food security effort, Nancy McNinney was hired as local food systems coordinator. Part of that job has her working with community gardens, which are all independently operated.
"Community gardens don't really talk to each other, so I'm kind of the coordinator of all of them, unofficially," McNinney said. "I'm not going in to change anything. I want to know how it's operating and see how I can help."
There is a community garden at Sandyvale Memorial Gardens and Conservancy in Hornerstown, which also supplies surplus plants to the other community gardens after its sale, McNinney said.
This year's plant sale continues through May 31 at the greenhouse, open from 9 a.m. to 5 p.m. Tuesdays through Saturdays. It's one of the group's main fundraisers.
Other community gardens are located on Laurel Avenue, Edson Street, Franklin Street, South Street and DuPont Street. The Johnstown Area Heritage Association's Wagner Ritter House on Broad Street and Moxham Lutheran Church on Park Avenue have also put in gardens.
The church is helping supply the Moxham Food Pantry at Goodwill Industries of the Southern Alleghenies on Central Avenue.
McNinney said the role of community gardens in providing food security, along with healthy options, can't be overstated.
"Community gardens have been shown to create a 90% change in food security concerns for the people involved," she said. "There are so many benefits when you have community gardens. It gets people involved in the community and everything can grow from there."
More programs
In addition to community gardens, McNinney is working on most of the food security collaboration's targeted goals.
The food resource inventory is gathering information for an online list of food resources, including farmers markets and food pantries.
Nutritional and education programs include the Youth Cafe Market at Flood City Youth Fitness Academy, 220 Lincoln St., downtown Johnstown.
The cafe is a farmers market at which students can learn about fresh fruits and vegetables and make purchases with coupons earned as rewards, McNinney said.
The Adventurous Eaters program led by Leah Johncola at Cambria County Library, 248 Main St., downtown Johnstown, encourages kids to try new healthy foods.
Running with the food as an economic driver goal, Balance Restaurant owner Mike Artim and Pennsylvania Highlands Community College President Steve Nunez are working on a food incubator kitchen and classroom to educate culinary professionals.
"They will be encouraging (students) to go back to their neighborhoods and teach neighbors how to prepare healthy meals," McNinney said.
The U.S. Department of Agriculture Feeding America program estimates that more than 1.1 million people face hunger and that nearly 350,000 of them are children.
"The childhood food insecurity rate in Cambria County is nearly 3% higher than the national average at 19%," Struble Myers said. "We're taking a holistic approach to addressing that need."
As part of the grant project, results will regularly be reported and a plan for self-sustainability has been developed.
Related Posts